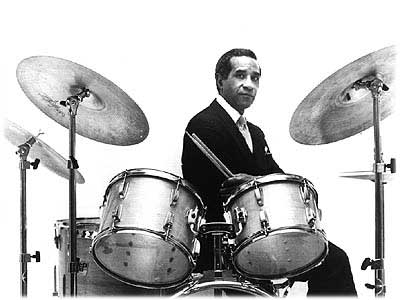 Max Roach. The classic bebop drummer. I recommend anything he did with Clifford Brown. He is also on Sonny Rollins "Saxophone Collosus."
There is a kind of "tasty" classicism to his drumming, which connects him to Papa Jo Jones (moving backwards) and to Billy Higgins (moving forwards). He pioneered the concept of "melodic" soloing. When I saw him perform he didn't have a band with him: he played unaccompanied drum set compositions.
His solos are miniature works of art, showing a wonderful sense of construction and form.
I don't have Kenny Clarke on my list. Not through any disrespect on my part, but because I don't have a concrete enough sense of him as a distinctive drummer.